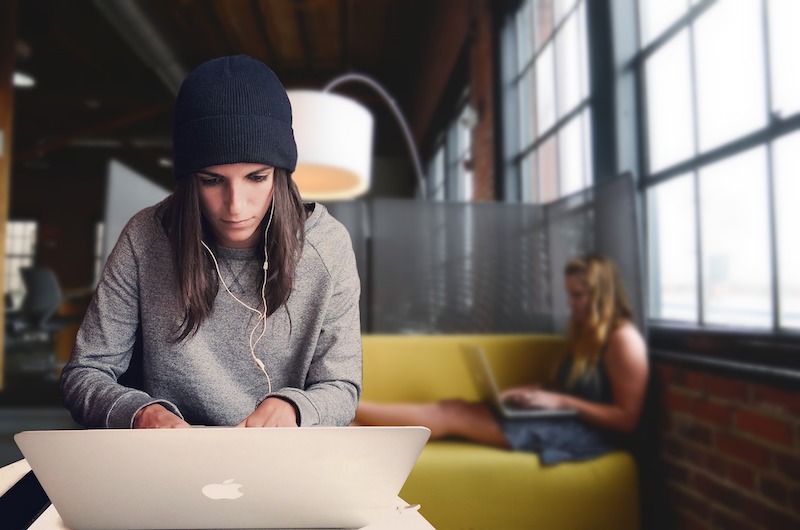 A dedicated employee named Maria in a finnish companys small marketing department was given the task of preparing a presentation and a newsletter for the launch of a revolutionary new product. This launch was particularly important because it also marked the debut of the company's brand new look. The pressure was on, and Maria was determined to impress her superiors and make the launch a success.
The company, however, had not yet invested in a media bank or DAM system, and the digital files for their assets were scattered across various folders, hard drives, and personal computers. Maria didn't realize how much of a hindrance this would be to her work, but she was soon to find out.
This is how Maria had to work:
Maria began her work by searching for the new logo, which was meant to be the centerpiece of the presentation and the newsletter. After hours of sifting through hundreds of files, she stumbled upon a logo file that she assumed was the right one. Little did she know, it was an outdated version, and the colors were slightly off.
The search for other materials proved to be even more daunting. Maria needed high-resolution product images, but her search led her to countless folders of poorly organized, unlabeled files. Every image she found seemed to be either too small, too blurry, or irrelevant to the new product. As Maria's workload grew heavier with numerous image corrections and other time-consuming tasks, the looming deadlines became a constant source of anxiety. After several days of combing through files, she finally found what she believed were the right images.
With the materials gathered, Maria hastily put together the presentation and the newsletter, trying to make up for the time she had lost searching for files. As the deadline approached, she couldn't shake the gnawing feeling that something was amiss. But there was no time for doubt – she had to press on.

On the day of the presentation, Maria's heart pounded in her chest as she stood before her colleagues and superiors. As the first slide appeared, a collective gasp echoed throughout the room. The wrong logo stared back at them, the outdated design glaringly obvious. Maria's face turned crimson as she frantically tried to explain the mix-up, but the damage was already done.
The horror didn't stop there. As the presentation continued, the audience discovered that the product images were mismatched with the descriptions, creating confusion and frustration. The presentation ended in chaos, and Maria's hard work went down in flames.
As for the newsletter, it had already been sent out to thousands of subscribers. The outdated logo and mismatched images sparked a wave of negative feedback from potential customers, leaving the company's reputation in tatters.
This was when Maria realized to seek for a solution
Maria learned a hard lesson about the importance of organization and the risks that come with a chaotic workflow. In the aftermath of the disastrous launch, Maria decided to look for a DAM system. She realized that a centralized, organized system for managing their assets could have saved the company from the nightmare that Maria had unwittingly unleashed.
To convince management of the urgent need for a DAM system, Maria needed to present a compelling case that highlighted the long-term benefits and return on investment. To further convince the skeptical and stressed management of the importance of a DAM system, Maria presented additional strong arguments that directly address the concerns and priorities of the management team.
It's no secret, she pointed out, our digital files are scattered everywhere – across multiple hard drives, individual computers, network servers, even shelves of storage media. This is an inefficient, ineffective and downright impossible way to store assets. Hours are lost each week endlessly looking for files, or worse, recreating or repurchasing misplaced files. This is both costly and frustrating.

The right digital asset management system removes these obstacles and helps you focus on what matters most by giving you tools to easily upload, organize and share assets. Furthermore, implementing DAM isn't as difficult as you might think! Easily upload, store and share assets using a single, managed repository. Instantly find everything using Google-like, predictive search. This would turbocharge our workflow!
But all of this hard work and strong arguments became futile, as the managment was not interested in costly investments connected to any DAM-system. Maria simply had to take another approach to solve the knot and find aid to managing marketing files in her work in delivering successful presentations and newsletters that showcased the company's new product and brand look to their full potential.
Read more from our blog: Don't get sidetracked by Enterprise DAM requirements while looking for a smaller media library
Maria's Journey to a Budget-Friendly Media Bank Solution"
After weeks of gathering data Maria stumbled upon a low-cost cloud-based media bank solution that seemed like the perfect stepping stone for her team. An affordable cloud-based media bank could be a viable starting point for Maria and her team, offering some of the essential features they need while keeping the initial investment low.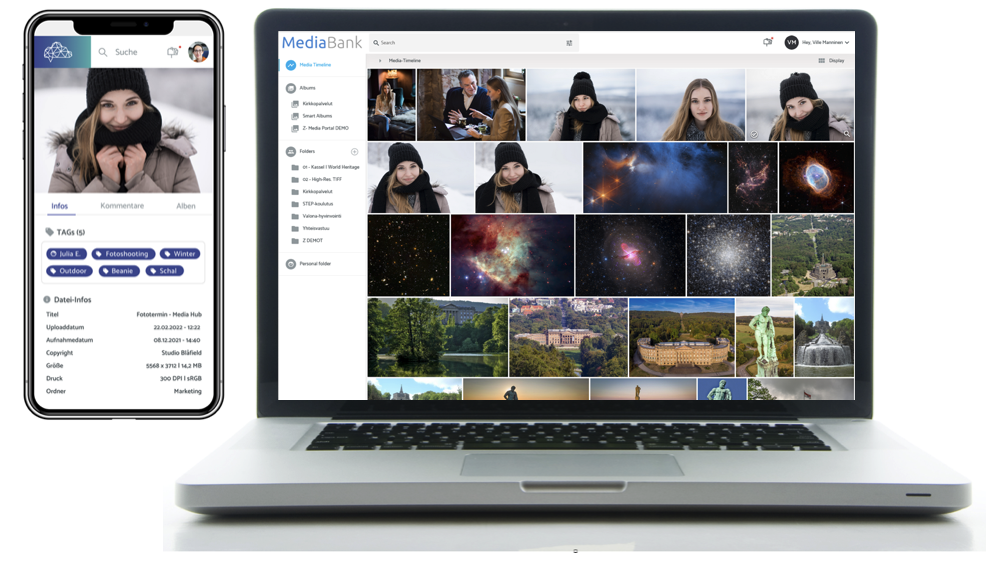 At a cost of only a few hundred euros/month, this option might be more appealing to management and easier to justify. Excited about this discovery, she decided to present this alternative to the management, hoping it would be the key to improving her department's workflow.
On the day of the presentation, Maria walked confidently into the conference room, armed with a well-prepared case for the cloud-based media bank. Finally, she had a easy to use and full-featured solution for Managing Digital Assets for everyone. The management team, curious but cautious, took their seats as Jane began her presentation.
"Ladies and gentlemen, I understand that investing in a full-fledged DAM system may be challenging at the moment. However, I've discovered an alternative solution that I believe will address our immediate needs while keeping costs minimal. Today, I'd like to present to you a affordable cloud-based media bank that could significantly improve our marketing department's efficiency and organization," Maria said as she introduced the topic.
She continued, "This media bank solution costs only a few hundred euros per month and offers many of the essential features we need, such as easy accessibility, basic organization, and collaboration tools. By adopting this media bank, we can streamline our asset management process, reduce wasted time searching for files, and improve collaboration within our team and with external partners."
Media Bank stands out in performance and ease of use
Maria then walked the management through the features and benefits of the cloud-based media bank, highlighting how it could address the marketing department's most pressing challenges. She also presented a side-by-side comparison of the media bank with other more expensive DAM systems, demonstrating how the low-cost solution still offered significant value. Media bank gives small and medium sized companies the same tools large global brand, publishers and media companies have paid millions of dollars for.
To further strengthen her case, Maria provided examples of other companies that had successfully implemented similar media bank solutions and discussed the potential for scalability, emphasizing that the media bank could be a stepping stone toward a more advanced DAM system in the future. Media bank has an easy to navigate interface, a powerful search engine and common language to easily get assets to those who need them the most.
"As you can see," Maria concluded, "this cloud-based media bank offers a cost-effective solution to our current challenges, with the potential for growth and adaptability as our needs evolve. By starting with this media bank, we can demonstrate the benefits of a more organized and efficient workflow, and when the time is right, we'll be better prepared to invest in a comprehensive DAM system."
The management team, impressed by Maria's thorough research and compelling presentation, agreed to give the cloud-based media bank a try. With the green light to implement the solution, Maria and her team eagerly embraced the media bank, using it to optimize their workflow and demonstrate the value of a more organized asset management system.

Over time, as the benefits of the media bank becomes evident, the management team would become more open to the idea of a larger investment in a more advanced DAM system, laying the groundwork for the marketing department's continued success.
Read more from our blog: Are Media Portals or Collection links the best way to deliver brand assets?
Here are some of the advantages of an affordable media bank
Easy accessibility: Cloud-based solutions allow the team to access assets from any device with an internet connection, providing flexibility and convenience.
Basic organization: While a low-cost media bank might not offer all the advanced features of a full-fledged DAM system, it should still provide basic organization, search, and tagging capabilities that can help streamline the team's asset management process.
Scalability: Many cloud-based media banks offer pay-as-you-go pricing plans, allowing the team to scale their usage as needed. This can make it easier to justify a larger investment in the future.
Collaboration: A cloud-based media bank should offer basic collaboration and sharing features, enabling the team to work together more effectively and share assets with external partners.
Security: Cloud-based solutions typically provide a certain level of security and data protection, ensuring that the company's digital assets are safe from unauthorized access or loss.
Read more from our blog: Benefits of using a media bank
Transforming Marketing Nightmares into Success Stories:
Maria became an advocate for media bank, sharing her horror story with others so that they might avoid the same fate. Digital assets are the lifeblood of business in the digital age, if you are not ready at a moments notice to discover, reuse repurpose and distribute these assets you are missing opportunity. You also need to make sure, that only approved assets are distributed.
As a leading service provider Communication Pro offer expertise in digital asset management (DAM) and management of sophisticated solutions as well as affordable media banks solutions in a variety of business areas. Communication Pro helps to build and customize media bank's, that will get easy to use. Work with our professional consultants and have your media bank system up and running within days.
No matter the size of your DAM (Digital Asset Management) service, it has incredible power in a simple interface configured to your needs. What we do with MediaBank is to make it easy for groups to capture, organize and share all the information that matters.
Interested? Check out our DAM and media bank services here or book an online meeting here.
Author Rolf Koppatz

Rolf is the CEO and consultant at Communication Pro with long experience in DAMs, Managing Visual Files, Marketing Portals, Content Hubs and Computer Vision.

Contact me at LinkedIn.